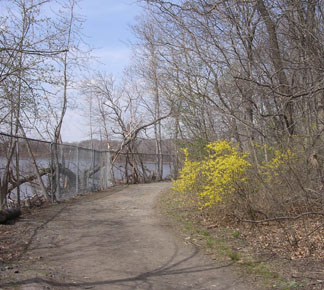 The path to fitness often leads to parks and ponds.
Where else can one run in a circle without feeling like a hamster? In Cambridge, Mass., we enjoy many urban parks for recreation. My favorites in North Cambridge are Corcoran Park, Danehy Track, and the Fresh Pond Reservation. The littlest park, Corcoran, has a nice, grassy soccer field, a kid's playset with hanging bars, and a garden surrounded by fencing that is the perfect height for leg stretches. It is usually my first stop on an outdoor run. It is perfect for dynamic warmups like "crab walking" on the soccer field, strength and balance challenges on the playset, and static stretching along the fence.
Continuing through the neighborhood I am faced with the choice of doing A. a speed workout on the cushioned surfaced of Danehy Track or B. a distance workout on the mostly paved loop around Fresh Pond. If I go to the track, I'll be in full sun atop a hill and running 400m circles around a field frequented by ultimate frisbee and soccer players. By contrast, if I go to Fresh Pond, I'll run in partial shade around the city's reservoir and likely have to dodge 20-30 dogs off-leash and their walkers taking the same loop for exercise. Sometimes the "dog factor" makes my decision easy -- there are days when you want distractions, and days when you don't.
Either way, Cambridge runners are lucky to have their pick of parks. There are many paths to fitness, and most take us outdoors. As spring approaches, consider how many good options there are to stretch, stride, and stroll outside the confines of the gym. Enjoy the fresh air, and Enjoy your workout!
Here's the Fresh Pond loop from my gym on
mapmyrun.com
I'll use this for future outdoor bootcamp groups.